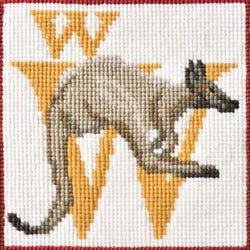 The letter W from the the Animal Alphabet.
Design size is 6 x 6 inches and each kit includes printed canvas measuring 10 holes per inch, chart card, Elizabeth Bradley Tapestry Wool, needles and needle threader.
The pictured letter is shown with a Cream background. If you would like an alternative background colour please contact our customer service team.
Lovely Little Tapestry!!
I took the kit on holiday to Spain with most of my family. One of my granddaughters, aged 9, was fascinated by it having never seen a tapestry kit before and she did some stitches which she loved doing and which were not bad at all! I am doing it for a younger grandchild and still have some way to go as there were lots of distractions!!
As with all Elizabeth Bradley kits - I have done many over the years, they are beautifully presented, the printing on the canvas is perfect and it is a joy to complete - just what I need now I am back in London with all the dramas we are going to have to face!!