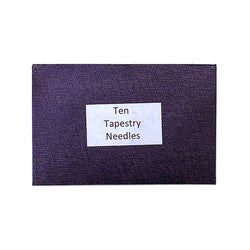 Ten Tapestry Needles (Size 18) in their own neat little sachet.
Needles
The best needles you can buy and use
Makes sewing so much easier
Don't waste your money buying any others
Tapestry Needles
I love these needles. They are easy to thread and go through the canvas easily.
Best needles
I find these are so much better than the usual needles you can buy. They are useful to to pin pieces together when joining
One Stop Shopping
I continue to gain satisfaction from my purchases and experimentation with EB merchandise. I have been a needlepoint enthusiast for 30 years. I've tried supplies from many sources . I'm always looking for bargains, shortcuts, sales, etc as we all do. I've used high quality wool from other companies and can honestly report that in actuality the EB wools are really the best for the EB designs or any cross stitched project . The same goes for the needles. I've been very happy with other brands of needles but for the EB designs there is just that extra ease from the EB needles. They really do make the stitching more effortless thus more enjoyable. The packaging could use some improving but the needles are superior. Shopping on line is easy and the service and shipping are quick and pleasant. Elizabeth Bradley is the one stop for all your needs.
Best Needles!!
These needles are definitely worth ordering. They are so much sharper than what I can buy in local needlepoint stores. This helps me to minimize stretch to the canvas and make even stitches. The only ones I use!