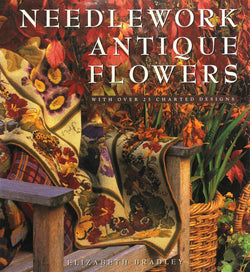 Needlework Antique Flowers
Needlework Antique Flowers was inspired by the romance and charm of classic gardens in full bloom. Elizabeth Bradley's exquisite needlework designs bring the joys of nature into the home. Stunning colour photographs, detailed colour charts, and comprehensive instructions. A great addition to a book collection for all!
Treasure House of Floral Designs
I have bought this book as a Christmas present for a friend, who
is a superb needlewoman. I hope she will find it a treasure house
of floral designs, as I have.
Beautiful book
I wanted this book for some time. It made my collection complete for all three EB books. Gorgeous photos, tips, and inspiration. I love it!! ❤
Book
A lovely book with good ideas for a project. Lovely picture.