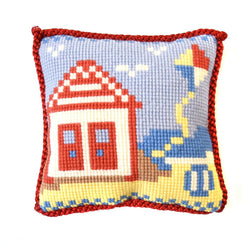 Relive the magic of British seaside adventures with our Sand Castle, Sailboat, Lighthouse, and Beach Hut designs from the LiziB Easy Stitch Children's Collection. These charming creations transport you to the shores of Britain, where building sandcastles, sailing on the open sea, exploring lighthouses, and playing in beach huts are cherished childhood memories.
Design size is 6 x 6 inches and each Beach Hut kit includes printed canvas measuring 10 holes per inch, Elizabeth Bradley Tapestry Wool, needles and needle threader.
Please note this kit comes with the background colour as pictured.  
Amazing First Project for Beginner
I purchased this project as something to keep me focused during lockdown, with the outlook of gifting the final product to a friends baby son for his 1st birthday. I have previous experience in petit pointe and knitting but fancied trying something new. I could not have been happier with this kit! The delivery time was ridiculously quick and efficient and I was really happy with the product. I have completed this design (and ordered 2 more projects since) and its only been a week and a half since I've begun! This is certainly an excellent project for anyone new to tapestry and I'm so proud of what I have accomplished. 10/10 on all fronts! Thank you Elizabeth Bradley!