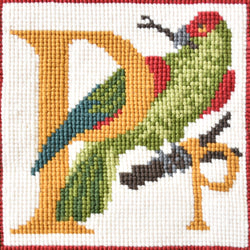 The letter P from the the Animal Alphabet.
Design size is 6 x 6 inches and each kit includes printed canvas measuring 10 holes per inch, chart card, Elizabeth Bradley Tapestry Wool, needles and needle threader. 
The pictured letter is shown with a Cream background. If you would like an alternative background colour please contact our customer service team.
Quick Project
The canvas was great, marked well. Don't like working with wool, personal preference. Used the recommended stitch which probably wasn't necessary. I prefer the look of tent or basketweave.
P. Parrot for Pollyanna
I am doing this for my grand daughter who will be 18 in July. It an extra present. susie dean
P-Parrot
I LOVE this kit!!! Will order more letters! Thank you :-)