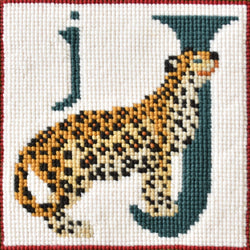 The letter J from the the Animal Alphabet.
Design size is 6 x 6 inches and each kit includes printed canvas measuring 10 holes per inch, chart card, Elizabeth Bradley Tapestry Wool, needles and needle threader.
The pictured letter is shown with a Cream background. If you would like an alternative background colour please contact our customer service team.
Cute
The Jaguar is a really cute and fun to stitch. I stitched it and put it into the natural oak box. It's a gift for my great-nieces first baby, Julian, due in November. I can't wait to gift it! It's really cute and perfect for baby!
Delightful!
I did it for friend's young son, he loved it and so did they. It was great fun to do!
Dalmatian Dog
I recently finished the Dalmatian Dog pillow and I am so very pleased!! It is just gorgeous! I love Elizabeth Bradley products!!
Jolly Jaguar!
I sent this to my cousin who hadn't been well. Her name begins with 'J' funnily enough! She really loved doing it and I adore the quirky design with the smiling jaguar. These small kits are so lovely as they can be completed relatively quickly and give a huge sense of achievement. Gorgeous colours too!