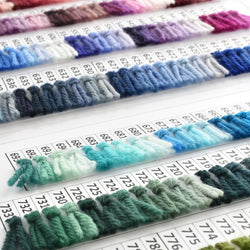 The shade book features actual wool samples from each of the Elizabeth Bradley wool colours. Each shade is organized to help you determine the right wool colour for your existing projects, for stitching any of the designs from Elizabeth Bradley publications, and for stitching new creations.
Wool shade book
An essential accessory when you need to convert threads of a different brand into Elizabeth Bradley's wools. Beautifully arranged, a useful tool.
Wool shade book
EB Wool has worked out perfectly for me, and the reason I ordered the book is so I can continue into the foreseeable future. My only possible quibble is the striking (to me) lack of matching rug yarn…
Wool shade book
This comes in so handy when deciding what threads to order! So many colors ❤️
Beautiful and Practical!
Oh my goodness! Had no idea how many new and beautiful colors are now available. And the notebook layout is so much easier to work with than the individual color cards. This is a must-have if you do any color customizing at all.
Wool Shade Book
Waited for a long time for this to be offered and was delighted to finally be able to purchase it. A bit pricey BUT worth every penny! Very well put together and a real handy reference for all projects! Thank you do much!