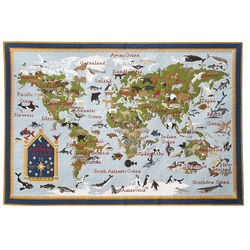 The Animal Atlas from the Children's Collection. The design was first published in our Needlework Animals book in 1996 and has become a firm favourite for stitchers world-wide.
The design size is approximately 51.7 inches by 34.5 inches. The kit includes the printed canvas, a chart card, needles, needle threader and Elizabeth Bradley Tapestry Wool.
Spectacular!
As always, Elizabeth Bradley never disappoints! This is the largest EB project I have ever ordered and I cannot wait to get started. I have been a fan ever since I became a collecter of antique Berlin woolwork pieces 30+ years ago. I have all of the Elizabeth Bradley books and have made 20+ of the kits. So, it may take awhile, but I know I will get hours of enjoyment working on this gorgeous kit!
Amazing!
Absolutely delighted thankyou so much ! very quick delivery, beautifully packaged and pure delight to open.
The kit is stunning; yarn smooth, colours and shades beautifully thought out; well worth spending the money hours of pleasure to make and create and then generations can appreciate ! Go for it
Beautifully Presented
A big commitment (in terms of time and cost) but I have past experience of EB products and have confidence that the kit will be of the usual high standard. The kit arrived very promptly by tracked courier and presentationally it appears perfect. As to my experience of the kit itself - I will have to complete another review in about 3 years time! We are still preparing to start it!
Great value for size
It is massive but beautiful, the same high quality as always. It came quick and I was lucky enough to get it with discount. I wish that they could do a payment scheme to help as this was a Huge purchase. Paying over 2-3 months would mean I could enjoy more of these works of art. Such detail and colour.
Animal Atlas
Beautiful canvas and threads! I'm looking forward to working on this for years - it is huge! Love love love it!!