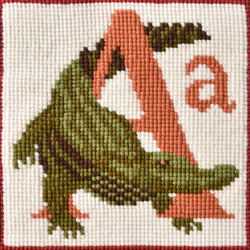 The letter A from the the Animal Alphabet.
Design size is 6 x 6 inches and each kit includes printed canvas measuring 10 holes per inch, chart card, Elizabeth Bradley Tapestry Wool, needles and needle threader.
The pictured letter is shown with a Cream background. If you would like an alternative background colour please contact our customer service team.
This is the fourth little alphabet kit I've purchased, one for each of my Grandchildren, and as ever the quality is superb.
Cute Small Needlepoint Perfect for a Baby Shower Gift
I am making the alligator "A" needlepoint for a baby shower gift. The stitching went really quick! It will probably take way longer to make it into a pillow.
The whole alphabet
I purchased the complete alphabet as individual projects (easier to travel with) and love the quality and value of the kits.
Best of the best!
Have stitched your kits forever. They never disappoint.
Always buy best
Great shopping experience. These alphabet letters are ideal for young girls to start with their needlepoint.