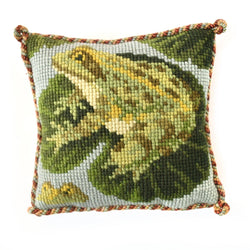 The Frogs design is 6" x 6" on a 10" x 10" canvas. The kit includes printed canvas measuring 10 holes per inch, chart card, needles, needle threader and Elizabeth Bradley Tapestry Wool.
Please note this kit comes with the background colour as pictured.  
Es preciosa
Me gusta mucho desde que la vi, ya tengo otros dos pequeños y cuatro grandes, ahora le toca a ella, la estoy bordando y es preciosa. Gracias
Real life colours
I always love opening EB parcels, its like Christmas. The colours are wonderfully vibrant and bring the frog to life. It will make a great gift.
good frog, had fun
the printed canvas is very accurate and the quality just full on amazing 😁 very starter friendly!!!! if you have £48 to spend and wants to make something delicate and cute defo give this a go, loved it hahah 💚💚💚
Froggy came a wooing
Elizabeth Bradley kits never disappoint. Beautifully packaged, colours perfect and these little kits are great as gifts or for travel. Ideal way to introduce someone to needlework.
Great little kit!
This is my first purchase from Elizabeth Bradley, and I'm so pleased I came across this website. These smaller kits are ideal for anyone who wants to get a feel for tapestry work, though in fact the finished product will be bigger than envisaged. I like the option of working from the picture (which I'm doing) or the chart. It arrived very promptly and is nicely packaged. The quality of the product and the service are outstanding, in my view.