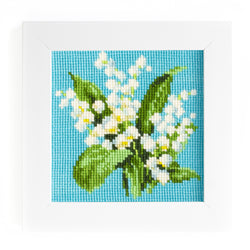 Lily of the Valley Mini Kit
When Spring comes the Lily of the Valley stands tall, heralding the advent of warmer days to come.
Delicate and sweet smelling clusters of bell shaped flowers are complimented by a striking turquoise background that lifts the intricate flowers and beautifully echos the change in season.
The Lily of the Valley design is 6" x 6" on a 10" x 10" canvas. The kit includes printed canvas measuring 10 holes per inch, chart card, needles and Elizabeth Bradley Tapestry Wool.
Please note this kit comes with the background colour as pictured.  
Deliciously Delicate
This is such a pretty design. The colours are beautifully soft and delicate just like the real flower. As always with EB kits, it is beautifully packaged and presented.
I love stitching the mini kits as they are fairly quick to complete and are so rewarding when finished. Having stitched many of the mini kits, (some I have stitched more than once), I get really excited when new designs are launched.