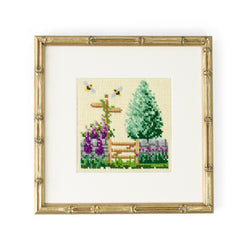 A footpath sign and foxgloves point the way over a stile where there's sure to be a meadow or shaded wood to explore. The old stone compliments the magenta and purple shades of the delphiniums to highlight the natural beauty nature offers.
The Footpath design is 6" x 6" on a 10" x 10" canvas. The kit includes printed canvas measuring 10 holes per inch, chart card, needles, needle threader and Elizabeth Bradley Tapestry Wool.
Please note this kit comes with the background colour as pictured.  
Ideal travel companion!
As usual this pretty mini kit arrived in record time and I am very much looking forward to starting on it on my upcoming trip to Northumberland. Just the right size to fit in the case!
Fabulous Footpath Mini Kit
This design is delightful! It is so pretty and as we have a similar stile and footpath sign very near our home, I couldn't resist buying this kit. As always with EB, the colours are just perfect and so is the presentation. Another gorgeous set of mini designs to tempt us all!