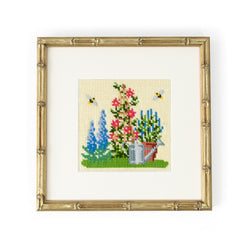 Watering Can & Trellis Mini Kit
Clematis love nothing better than a trellis to climb and weave their way to the sun, decorative and yet functional this garden feature is the highlight of this design accompanied by a watering can, ready to give a much-needed drink to the flowers after basking in the summer sun.
The Watering Can & Trellis design is 6" x 6" on a 10" x 10" canvas. The kit includes printed canvas measuring 10 holes per inch, chart card, needles, needle threader and Elizabeth Bradley Tapestry Wool.
Please note this kit comes with the background colour as pictured.  
Watering can and trellis.
So I bought this little kit to take with me to sew in Crete. I am currently sitting on my veranda which overlooks the sea in Plakias. All you can hear is the sound of the sea and the birds.The odd fishing boat is passing by. What a beautiful place to sew with a cool glass of white wine. Away from all the troubles of the world. Perfect!
Ps it is coming along nicely. Very pretty.x