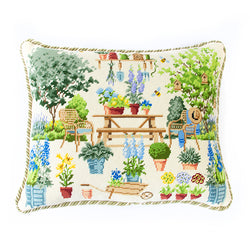 Small space gardening returned to the RHS Chelsea Flower Show in 2022 for a second time and the Great Pavilion was brimming with container planting inspiration. Our Courtyard Garden is centred on a relaxing set up of wicker chairs and a refectory table perfect for entertaining, pottering, and enjoying a calm, natural environment. The Chelsea Courtyard Garden is the 2023 addition to our Kirk and Bradley for Elizabeth Bradley range.
The design is 20" x 15" on 24" x 19" canvas. The Needlepoint Kit is printed on 12 count mono canvas and is supplied complete with Elizabeth Bradley wool, a printed chart, needles, needle threader and easy to follow instructions for Basketweave Stitch. This kit comes on a Pale Yellow background colour only.
Beautiful!
Received the package, beautifully presented, haven't started yet.
Had my eye on this series of designs a while.
Often looked at these, could not make up my mind which to choose. As they very different to my previous Elizabeth Bradley designs. When I saw the Chelsea Courtyard design. Just had to have it. This design contains all the items I would put in my fantasy courtyard or real one if I had such a lovely place.
Absolutely wonderful
A marvelous kit, beautifully designed, quality materials, wonderfully packaged. Absolutely impossible to resist. One of those "I have to have it" moments.