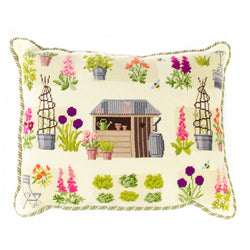 The Chelsea Cutting Garden is an addition to our Kirk and Bradley range. This kit captures the mood of Chelsea's informal 2017 Colour Cutting Garden.
The design is 20" x 15" on 24" x 19" canvas. The Needlepoint Kit is printed on 12 count mono canvas and is supplied complete with Elizabeth Bradley wool, a printed chart, needles, needle threader and easy to follow instructions for Basketweave Stitch. This kit comes on a Pale Yellow background colour only.
Marvellous!
What a super kit! Such beautiful colours and beautifully packaged!
Can't wait to start it!
Chelsea cutting garden
Just finished the Rose cushion and now very excited to start this new needlework that will finish as a picture for kitchen. They are quite expensive but quality is very high, very easy to do with clear explanations, difficult to find a valid alternative. And not last all the pictures are marvellous!
I already ordered another needlework (a bell pull) to a dealer here in Italy.
Kind regards
Rossella
Chelsea flower show/ cutting flowers
I am very happy with my cushion. I used to do your cross stitch many years ago and would go to your shop in Beaumaris in Anglesey. Over the years I have done various cross-stitch kits.With these crazy times with lockdown I went on your web site just for a look and was not disappointed. I now realise how good and professional your kits are. Yes they are expensive but they are so worth it. Everything is spot on from the wools to the packaging to the prompt delivery. They are easy to do and when I finish this one I know I will order another kit, but which one so many to choose from.
Kind regards,
Jane.