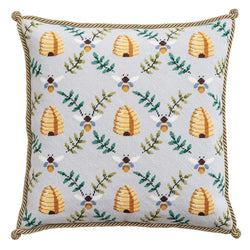 The Beehive Trellis kit is part of our Kirk & Bradley range. The design is 18.5" x 18.5" on 22.5" x 22.5" canvas. The needlepoint kit is printed on 12 count mono canvas and is supplied complete with Elizabeth Bradley wool, a printed chart, needles, needle threader and easy to follow instructions for Basketweave Stitch. This kit comes with Blue background wool.
beehive trellis
very pleased as this is the 2nd one I have purchased , as I wanted a matching pair(too lazy to copy) only thing back ground is not blue but pale grey
I love it so bright!
I love this so much I wish there was some incentive to buy one a month!!
Great as always! Looking forward to stitching!
Beautifull Kit - Lack of instructions
Beautifully packaged Kit with excellent quality supplies. Really looking forward to getting started. I am an experienced needlewoman so instructions not so necessary, however other than a stich guide no info on how best to start. A newbie would struggle.
Speedy Delivery.
Excellent Service
I have completed many of your kits, but a long time ago. I also attended some of your courses. I am really looking forward to starting my new kit.
I am impressed by how efficient you were in sending my kit.