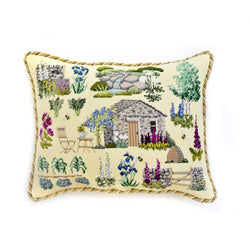 The Chelsea Yorkshire Garden is an addition to our Kirk and Bradley range.
The design is 20" x 15" on 24" x 19" canvas. The Needlepoint Kit is printed on 12 count mono canvas and is supplied complete with Elizabeth Bradley wool, a printed chart, needles, needle threader and easy to follow instructions for Basketweave Stitch. This kit comes on a Pale Yellow background colour only.
Kit Chelsea yorkshire garden
I've been looking at this kit for a long time and I finally received it as a Christmas present from my husband.
Very efficient shipping service, I didn't expect it to arrive before Christmas but it was very fast.
The kit is great with tasteful and quality packaging. I find adding the schema to be a great choice
Yorkshire Garden Kit
Super quick delivery, 19,000 km to New Zealand half a world away, and it was here within four days!
I am very pleased with this kit and the ease of in hand basket weave stitch... Great wool to work with too
Chelsea Garden Cushion
I'm very happy with it. I have had to concentrate on how to do the stitch as I hadn't used it before. I think the instructions could be a bit clearer and fuller. I had to look on line to work it out.
Beautiful Colours and Design
My kit arrived beautifully packaged and very quick delivery!
I look forward each day to sitting relaxing and completing this project!!
Already thinking about which one I would choose next!
Wonderful Service
Beautiful packaging, a delight to receive this high quality product within 48 hours of ordering. Can't wait to start