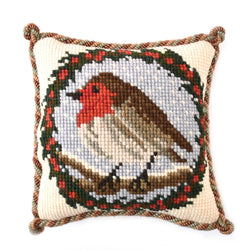 The Robin design is 6" x 6" on a 10" x 10" canvas. The kit includes printed canvas measuring 10 holes per inch, chart card, needles, needle threader and Elizabeth Bradley Tapestry Wool.
Please note this kit comes with the background colour as pictured.  
Robin Redbreast.
Enjoyed doing this tapestry. I have sewn it in memory of a friend whose brother had just died. Just come back from being framed all ready to give for Xmas. It looks fabulous, I chose a red wooden frame which complements the robin really well. Love these mimi kits.
Mini Robin Kit
Very impressed with the quality of the kit, arrived very quickly. It is a joy to work on, I have decided on either a cushion or a frame yet.
Mini Robin Kit
Love working on these mini kits, and they look lovely when made into a cushion.
Mini Robin kit
The mini kits are a great size, either as a cushion or framed as a picture. Also make good Christmas presents
Mini Robin kit
My Mum got me started on Elizabeth Bradley products, as expected this one was a joy to do and of the highest quality.
Saving up for a big one next.