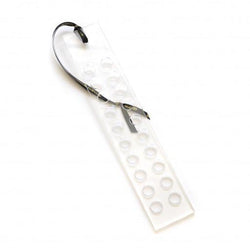 This useful Acrylic Wool Organiser (13.5" x 2.5") is an absolute must for keeping your wools tidy and organised. Making it possible to remove individual threads without creating a tangled mess!
To protect the acrylic from getting damaged, each acrylic wool organiser comes with a protective paper/film covering it. You will need to peel this off before using the acrylic organiser.
Perfect!
Large! It comfortably holds my cushion's wools, and it's beautiful too. I don't know how I did without it before now.
Have not started to use it yet.Look forward with my new needlepoint .Must finish the small one first
So useful
This is such a useful piece of kit. I wish I had bought it earlier! Delighted.
So useful
It has been a game changer for me. So much easier to see the different colour wools organised in colour order rather than tied in little bundles in a bag!
Helpful
I have found this to be a helpful way to keep my threads organized and convenient