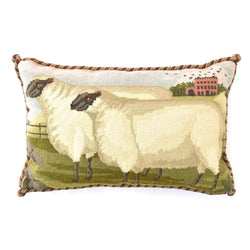 The Two Fat Suffolk Lambs design is 20" x 13" on a 25" x 18" canvas. The kit includes a chart card, printed canvas measuring 10 holes per inch, needles, needle threader and Elizabeth Bradley Tapestry Wool.
awesome
such a beautiful desgn, I can't wait to display it in my new bedroom, it's so british!!!
Excellent Service
Looking forward to starting this tapestry. It will match the Gloucester Old Spot Sow and Piglets that I completed recently
Super in all respects
Prompt delivery. Very nice and kind support in connection with the order. Five stars out of five!
Speedy Delivery
Prompt delivery. Kit exactly as expected to complete the Beasts of the Field set. Previous ones beautiful and much admired.
These tapestry's are a joy to do and my two fat sheep will definitely take the sting out of the long winter evenings to come. Beautifully designed and easy to follow it's so difficult to choose. Excellent service. I can't wait to start.