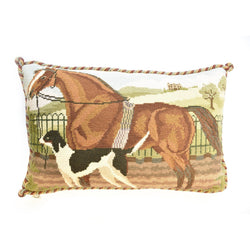 The Suffolk Punch horse, a stalwart of English farming, shares the spotlight with a loyal hound. This motif celebrates the hardworking partnership between man and horse, a symbol of strength and companionship in the English countryside.
The Suffolk Punch and Hound design is 20" x 13" on a 25" x 18" canvas. The kit includes a chart card, printed canvas measuring 10 holes per inch, needles, needle threader and Elizabeth Bradley Tapestry Wool.
Suffolk Punch and Hound
Thank you for a Beautiful kit. The design is stunning and I really love the different size of the design rather than the usual square designs. I do love the Elizabeth Bradley pictorial designs.Please can we have some more pictorial designs as I have stitched so many of the flower designs. I have been stitching Elizabeth Bradley tapestry kits for many many years.I would highly recommend your kits for someone thinking of starting a new stitching hobby. The customer service is excellent and your kits are the best tapestry kits
Very nice project
A lovely tapestry to sew, l am not that keen on the many flowery tapestries so this one is different. I would like to see a bit more variety though.
Suffolk Punch and Hound
Recently started this kit and I love it so much. Have coveted Beasts of the Field kits for some time and hope to add to my collection. The new kits are wonderful. The canvas is printed to such a high standard that I have found I don't need to refer to the chart as often, but the chart is still handy for reassurance. Love the quality of the wool and the generous amount in the kit. Hope to have this framed when finished. Can't recommend EB kits and books enough.
Horse and punch
This one is beautiful to do to add to my collection.
Country animals
I'm happy for my new needlepoint!