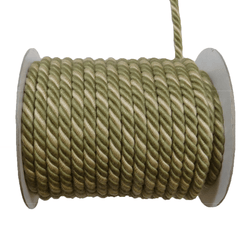 Complete the look of your Elizabeth Bradley cushion with our Sage & Cream cording!
Includes a strand of cord 2 metres long. The perfect amount for your 16" x 16" cushion.
Classy cord
Having completed my 2nd Auricula cushion (one on black background, the other on white) - and having never used piping cord on any previous cushion - I decided to elevate the completed impact by adding edging cord and was not disappointed by the usual EB quality sage and cream cord which finished said cushion perfectly.
Nice cord!
Nice cord with lovley colours. Really good looking.