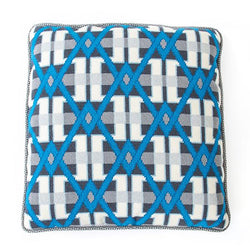 Needlepoint To Go is a family of affordable, high quality, fun needlepoint kits and canvases. Each kit includes a precision printed canvas using our new state of the art printing technology, pure 100% Elizabeth Bradley Wool, stitching instructions and diagrams for the Basketweave stitch and needles. Everything you need to know to get you started in the world of needlepoint.
This kit features a 15.5" x 16" design on 12 count mono canvas.
Broadway Blue
This was my first order from Elizabeth Bradley and it was shipped to France with no problems, arriving when scheduled. I was so excited to start this project (my first needlepoint project for probably about 40 years! It is a bit like riding a bike, you don't forget!!)
I have completed three quarters of it and am already thinking about my next one!
The colours are superb, the directions easy to follow - all in all a real pleasure - MERCI!!