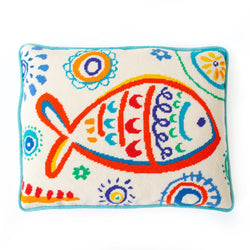 Needlepoint To Go is a family of affordable, high quality, fun needlepoint kits and canvases. Each kit includes a precision printed canvas using our new state of the art printing technology, pure 100% Elizabeth Bradley Wool, stitching instructions and diagrams for the Basketweave stitch and needles. Everything you need to know to get you started in the world of needlepoint.

This kit features a 17.5" x 13.5" design on 12 count mono canvas.
beyond
and so it was- beyond!
the pattern is happy-colourful and easy to follow without big challenges
just what I wanted
and so
beyond my expectations
thank you!
Very funny kit
It s a joyful pattern very easy to do ! A lot of the same Color ( white) to sew but I can watch my favourite films and do it at the same time ! The bag is made of a light sort of cardboard so I my canvas in one of my own , I love the basket weave stitch different from the cross stitch! Quicker !