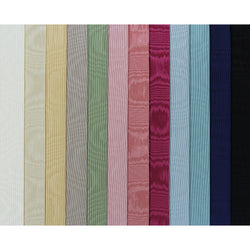 Cotton and Polyester blend moire fabric with zipper. Includes instructions for finishing your cushion at home. Perfect for finishing your 16" x 16" design!
If you need a larger piece of fabric + zipper for miscellaneous sized kits, please contact us directly to order. 
Elegant finishing material
The colour is perfect and will be a lovely backing for a Wreath of Roses cushion when finished. Very good packaging and rapid postal delivery service to France.
Lemons cushion
A beautiful cushion. The choice and placement of colours in the pattern creates a three dimensional effect. I highly recommend this product.
Lovely fabric
Beautiful fabric and great tat zips match so well.
More colours please.
Finishing of cushion
Am overwhelmed with the transformation of my tapestry, thank you so much fantastic and would highly recommend your services to everyone.