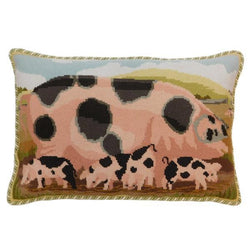 Gloucester Old Spot Sow With Her Piglets
The Gloucester Old Spot Sow with Her Piglets represent the quintessential English farm scene. These distinctive pigs are cherished for their spotted coats. Our exclusive design captures the rustic charm of English farm life.
The Gloucester Old Spot design is 20" x 13" on a 25" x 18" canvas. The kit includes a chart card, printed canvas measuring 10 holes per inch, needles, needle threader and Elizabeth Bradley Tapestry Wool.
A worthy addition to the stash!
Delighted with this quirky addition to my collection of canvases "in waiting " - I somehow think it might not have to wait too long!
Gloucester Old Spot
Having looked at this a number of times over the years I finally took the plunge and bought it. It has been an Elizabeth Bradley staple since the early 1990's and has not aged at all. The colours are absolutely beautiful and it had been a pleasure to stitch. I have just a little of the background left to complete and am then starting work on the two lambs to hang with it over my fireplace. Highly recommend; these kits are absolutely gorgeous.
Old Sow Pig
I love it! I find stitching so relaxing and this Gloucester pig is such fun, I think I will have it framed.
Old Sow Pig
This tapestry was great fun to stitch. The colours were easy to see which was nice. I am not sure whether to make it into a cushion or a picture to hang on the wall. Whatever I make the Old Sow Pig into, I know it will be greatly admired and I think I will do another tapestry in this series.
I've always wanted this!
Having worked many needlepoint kits in every conceivable design of flowers I finally ordered the Gloucester pig design and its absolutely gorgeous. Look forward to starting on it very soon.