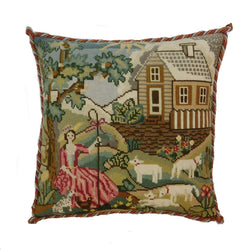 The Pastoral kit by Elizabeth Bradley is a Special Edition kit that comes with the chart card, printed canvas, Elizabeth Bradley wool, needles and needle threader. The design is 16" x 16" on a 20" x 20" canvas.
Pastoral
Charming design. Beautiful kit!
Love quality
Beautiful scene, great quality canvas and wool. A pleasure to work this.
The Pastoral Tapestry kit
I am so pleased I decided to buy this kit, It is a design I kept looking at and then buying a different Elizabeth Bradley kit instead
I decided to buy the kit in the recent sale and I am so glad I did, I honestly think it is a design which looks so much better when stitched
It is reminiscent of a by gone era with lovely muted colours which blend beautifully to create a stunning design which I will treasure
I do love the pictural designs and would love to see more of these
Thank you to the team at Elizabeth Bradley for your exceptional customer service
The Pastoral Special Edition Needlepoint Kit
The needlepoint kit is beautiful and I look forward to opening it and starting to work on it on Easter Sunday