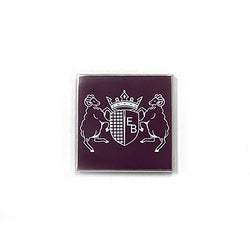 A high-strength magnet bearing the Elizabeth Bradley crest. Ideal for attaching needles & scissors to canvas.
Measures approximately 40mm square.
Perfect Accessory ❣️
I bought 3 of these super cute and extremely functional magnets; one for myself and the other two for my adult daughters! It sure helps us to locate our needle quickly and eliminates a lot of stress😉❣️Highly recommend ❣️
Great Magnet!
This is so useful. It holds needles very well and scissors too. It's great for keeping things where you need them and easy to find. The magnet is very strong.
I wish I had bought one before now. Highly recommended.
Strong Magnet!
Really nice for keeping needles from getting lost. Love the design on the magnet too!
How did I ever get along without my enamel magnet?
I enjoy it every day.
It saves many a headache.
A Handy Little Square
My EB Enamel Crest Magnet is tiny but powerful. It is a great way to keep track of your needle. No worries about losing it or it slipping off the magnet. I also attach my scissors, so I am always ready to go when it is time to start stitching. I would recommend this handy magnet to anyone who stitches.