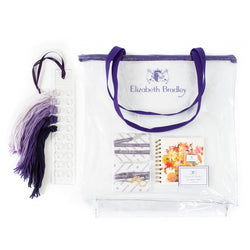 We have compiled our most useful stitching accessories into fun accessories bundles, each giving you the tools on hand for a seamless stitching experience. This set contains an exclusive mini magnet and traditional spiral notepad as well as a pack of ten tapestry needles, a needle threader, stork scissors, and an acrylic wool organiser. All of these accessories come packed in a large logo kit bag, perfect for keeping larger projects safe and organised.
*Wool shown on acrylic wool organiser is not included*
Wonderful product...love it
Excellent service, speedy delivery...
Excellent value.
The large accessory pack has everything one could use. The large bag is ideal and the yarn organiser is a godsend. The other incidental items are all useful and make this purchase excellent value. I'll be buying more.
Large pack
This product, along with everything I have purchased from you is above excellent! I look forward to each kit I've purchased and to the ones I'll purchase in the future.
Love it!
Love the large accessory pack- I especially love the yarn organizer!
I have been purchasing Elizabeth Bradley for the last 30 years and I love the product. The accessory bad is great to keep all your supplies in and also for traveling.