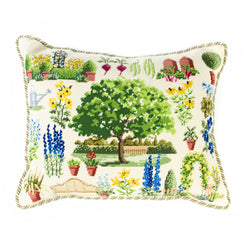 The Chelsea Artist's Garden
The Chelsea Artist's Garden is the 2021 addition to our Kirk and Bradley for Elizabeth Bradley range.
The design is 20" x 15" on 24" x 19" canvas. The Needlepoint Kit is printed on 12 count mono canvas and is supplied complete with Elizabeth Bradley wool, a printed chart, needles, needle threader and easy to follow instructions for Basketweave Stitch. This kit comes on a Pale Yellow background colour only.
Chelsea Artists Garden 2021
Absolutely love this tapestry. It is done in basket weave stitch which is a nice change and a new challenge after doing a dozen of the victorian cross stitch pieces. The canvas is so accurately printed I can work off that and just refer to the chart to check colours. Highly recommended.
Can't write a review as it will be a Christmas present . It arrived almost before I ordered it . Most efficient .Thank you .Pamela.
chelsea artists garden
love my recent purchase, as usual Elizabeth Bradley kits are fabulous thankyou.
Gorgeous
I couldn't choose one so have bought 3. Finishing another project first but can't wait to start. The hardest part will be which one first! Stitching Elizabeth Bradley kits is a joy and a lovely way to find some calm in difficult times.