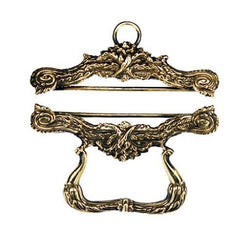 The Elizabeth Bradley Brass Bell Pull End Fittings are cast exclusively for us from an antique pair of fittings. They are designed to finish off your Bell Pull stitching beautifully.
The Brass Bell Pull End Fittings are 4.5" wide and intended to fit on a 6" by 40" Bell Pull.
Brass Fittings
The brass fittings are the perfect finishing touch to the needlepoint bell pull!
Bell Pulls
I am finishing my 12th Bell Pull.Some framed and some with the Brass fittings.Both ways are really lovely .Very good quality as usual.
Brass End Fittings
I have sewn all the bell pulls now and it is so lovely to have them all finished off with these beautiful brass end fittings. They have been much admired. Very good quality and I would recommend.
Brass end fittings
Very good quality and easy to add to the bell pull. Would recommend.
Brass fittings on the bell pull
Makes all my hard work look perfect thrilled with the brass fittings as the finishing touch.