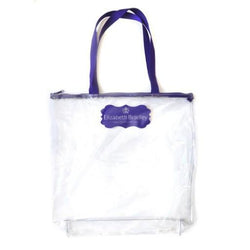 Our Elizabeth Bradley Large Logo Kit Bag is the perfect storage solution to organise all of your Elizabeth Bradley goodies - including your 16x16" kit!
So very useful
I wish I had bought this bag earlier. It really is very useful and keeps my tapestry and wools neat, clean and tidy. It is strong and well made.
Fabulous
Very pleased with kit bag - have been doing EB designs for a long time wish I had one before. Strong and sturdy excellent value for money. Will buy again for my many ongoing projects!
Useful
This is a quality bag, well made with a nice zipper. It's very useful for keeping projects dust free and all the bits and bobs together.
It was such a lovely surprise to get my birthday gift and find out I had enough points to receive the Logo Kit bag. It arrived so quickly and is a wonderful addition to my sewing equipment. It has certainly stopped my five cats helping me sew by sleeping on my latest project leaving behind lots of fur! Thank you so much for such a lovely treat
Lovely craft bag
The Logo Kit Bag is the bag you didn't know you needed! Lovely quality bag which stands up on its own, so practical.