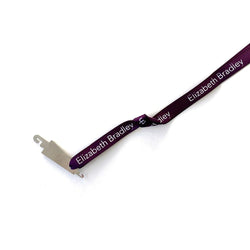 Needle Threader and Ribbon
A handy accessory to make needle threading even easier. A Needle Threader is included with every kit purchase.
1. Begin by sliding the large curved end of the needle threader onto the eye of your needle. There is a spot on the threader to rest the needle.
2. Take the strand of your Elizabeth Bradley Tapestry Wool and set it inside the hook on the end of the threader.
3. Once the wool is in place, pull the needle back over the wool and the hooked end of the threader. As this happens your wool will slide into the needle.
Watch our video on how to use a Needle Threader here.
Great value for money paid
Great value for money paid, very easy to use, this saves time trying to thread a needle, a very useful accessory, for helping to complete any tapestry.
Transformational
This tiny gadget has revolutionised my sewing life.
Thank you
Needle threader
Love it. Makes sewing so much easier.
Expensive but Worth the money
Expensive item but well worth the money makes life very much easier when trying to thread the tapestry needle with wool