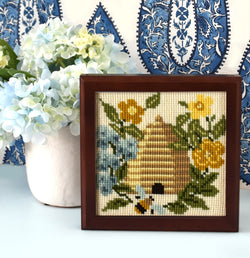 Show off any 6x6" mini design in style with our beautiful stained Display Boxes. Each box includes a glass covering to protect the finished needlework. This self-finishing case is the perfect addition to any countertop, bookshelf, or coffee table.
Please note that you will need to stitch two additional rows around your design before inserting it into the display box.  When placing your order, please include the mini kit design you are stitching in the order note section of your order.  We are happy to send these additional strands to you at no charge.  If you have any additional questions, please reach out to our customer service team at ebd@elizabethbradley.com
Excellent Display Box
This is the second display box I have purchased from Elizabeth Bradley and find them to be an excellent way to show off your finished work. Easy to do. I would highly recommend.